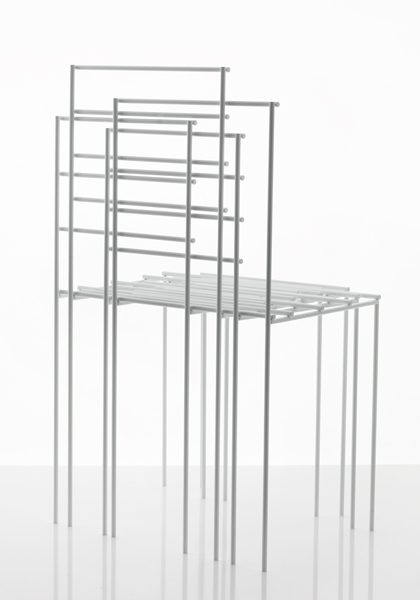 White lacquered steel
60 x 45 x 96,5 cm
Limited edition
The chair consists of multiple chairs which blend into a single chair.
Stol bestående af flere stole der smelter sammen til en. Stolenes konturer opløser hinanden, og den enkelte stol forsvinder ud af fokus.
Design: Ditte Hammerstrøm, 2010
Manufactured by: JM Rør A/S
Represented by: Galerie Maria Wettergren

Exhibited
2016 Pavillon des Arts et du Design, Paris, Galerie Maria Wettergren.
2015 Sole exhibition, For the Love of Detail, Galerie Maria Wettergren, Paris.
2013 DOUBLE/DOBBEL. Illums Bolighus, Copenhagen.
2011 WhiteOut. Tokyo Design Center. London Design Festival. Riga Art Space.
2011 Pavillion of Art & Design, London. Galerie Maria Wettergren.
2011 Finn Juhl Prisen. Ordrupgaard, Denmark.
2010 WhiteOut, Cabinetmakers' Autumn Exhibition. Ordrupgaard, Copenhagen.